Thai Green Curry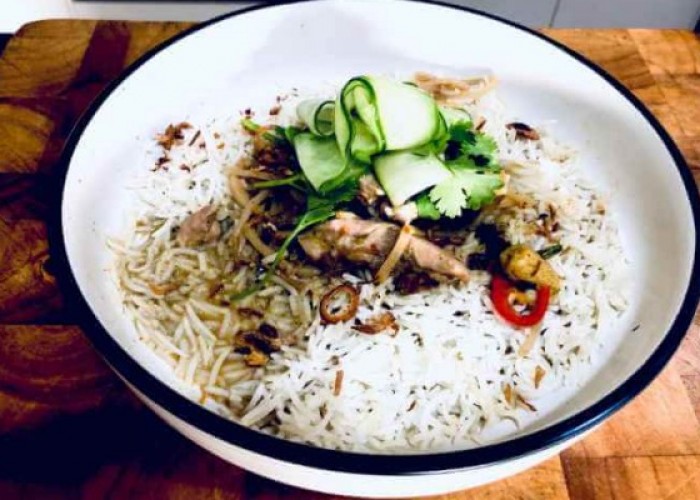 On today's episode, Che shows you how to cook his amazing Green Thai Curry Recipe!
Gluten-Free
Prep Time 10 Minutes
Serves: 4
Paste Ingredients:

1 Tbsp Coriander powder
1 Tsp cumin powder
1 Tsp ground black pepper
1 Tsp salt
4 Large green chillies (if you like heat add more)
1 Tbsp minced garlic or 5 garlic cloves
3 Kaffir lime leaves
1 tsp ginger
Juice of 1 lime juice & zest
2 lemongrass stalks (just white part)
1 Tbsp fresh coriander root/stems
1 Tsp Shrimp paste
3 Shallots
Curry Ingredients:

2 tbsp Veg oil
100g green Thai paste
500g chicken thighs (cut into 1-inch chunks)
2-3 large green chillies (sliced thinly)
400ml coconut milk
100ml coconut cream
4-6 Kaffir lime leaves (sliced thinly)
2 Tbsp brown sugar
2-3 tbsp fish sauce
½ Handful fresh coriander leaves (torn apart)
1 Tin of mixed Asian veg
Garnish & Serve Ingredients:
Fresh Coriander
Lime Pickled Cucumber
Fried shallots
Rice
Instructions Paste:
Add all paste ingredients into a blender and blend until smooth, add a little water if too thick.
Set aside until ready to use for the curry.
Instructions Curry:
For the curry, place a wok on medium heat and add the oil. Next, add the paste and cook for 1 minute, keep stirring it with a wooden spoon. Now add the coconut milk and continue to stir until the coconut milk is reduced by half.
Add the chicken and coconut cream and cover the wok until it comes to the boil. Next, add the fish sauce, sugar, green chillies, kaffir lime leaves, coriander and cook until the chicken is cooked through around 8 minutes.
Garnish:
Cook some rice.
Get the cucumber and peel with a peeler, all the way down, next, put the cucumber in a bowl with 1 tbsp lime juice and a pinch of salt.
Serve the curry on top of the rice with the pickled cucumber and some fresh coriander.
Related Articles