Rich Creamy Garlic Mushrooms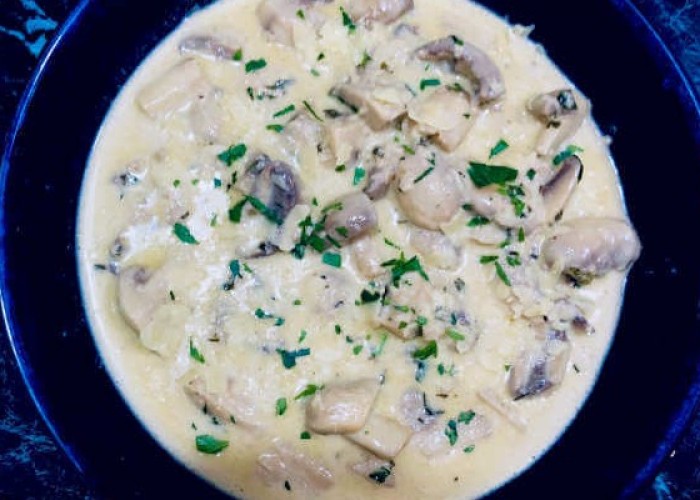 This mushroom recipe will only take you 10 minutes and will impress your partner!
Gluten-Free: Yes
Cook Time: 10 minutes
Feeds: 2
Ingredients
Knob of butter
1 tbsp olive oil
250g cup mushrooms (cut into quarters)
1 cup of thick cream
1 tsp Dijon mustard
4 garlic clove's
1 tbsp fresh parsley
1 shallot or 1 small brown onion (diced finely)
Parmesan (grated)
A drop of lemon juice (optional)
Season salt & pepper
Garnishes
1 Tbsp Parmesan (shared)
Handful fresh parsley (chopped)
Instructions
Put a pan on medium heat and add the knob of butter with 1 tbsp olive oil. Once the butter is melted add in the onions and cook until soft.
Next, add in the garlic and cook for another 2 minutes. Now add in the mushrooms and cook until lightly brown and season with a pinch of sea salt & pepper.
Once the mushrooms are looking good! Add in the mustard and now add in the white wine and cook until half the amount of wine is left in the pan.
Now add in the parmesan and cook for another 1 minute. Next, add in the cream and make sure to stir in well.
Season with sea salt & pepper and cook for 5-7 minutes on medium heat.
Once done add fresh parsley and season more with seas salt & pepper if required, now add the lemon juice (optional).
Serve and garnish with fresh parsley and parmesan.
If not gluten-free a slice of crusty bread goes well with it!
This blog post is part of a 3 series post that will help anyone cook an entrée, main and dessert! Check out the other posts below.
Related Articles