Asian Rice Noodles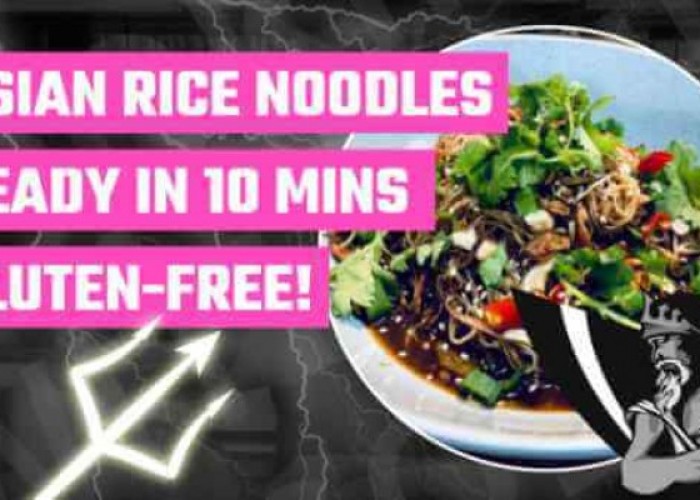 If you want a quick and flavoursome recipe then our Asian Rice Noodle dish is going to be right up your street!
Gluten-Free
Prep Time 10 Minutes
Serves: 2
Broth Ingredients:

Vermicelli Rice Noodles
300ml Chicken stock (Gluten-free)
¼ Cup soy sauce (Gluten-free)
2 Tbsp Rice Wine Vinegar
1 Fresh lime (cut in half)
1 Tbsp Honey
1 Tbsp Garlic
1 tsp Ginger
1 Tbsp Sesame oil
1-2 Tbsp Korean Hot Sauce (Made by www.godsofsauces.com.au)
2 Spring onions (the white part sliced across)
1 Tbsp Fresh coriander stem (cut into 1-inch slices)
1 Tsp Chilli flakes (add more if you like heat)
1 Tsp salt & pepper
Pinch of salt
To Serve Ingredients:

Spring onions (green part chopped)
1 Red chilli (sliced)
A few sesame seeds
1 Tbsp crushed cashew nuts
2 Tbsp fresh coriander (roughly chopped)
1 Tbsp fried shallots
Korean Hot Sauce
Broth Instructions:
Put all broth ingredients into a pan on medium heat, including a lime cut in half.
Next, cook until reduced by half and thicken slightly.
Remove from heat once done.
Noodles Instructions:
Put noodles into a large bowl and pour hot water over them and leave to cook in the hot water for 2 minutes.
Drain from hot water and put back in the bowl.
Put the noodles into the broth without any heat and mix together.
Put the noodles now on a plate ready to serve and add the serving ingredients e.g. coriander.
Now enjoy!
Related Articles